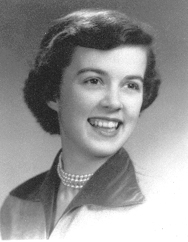 My Mom
My mom died in 2004. Here is the obituary I wrote for her:
Joyce Ruth Elleman (Jo) deVries, 77, passed away peacefully June 23, 2004 at the home she loved so much in Minnetonka, MN. She is preceded in death by her parents, Guy Elleman and Ruth Stokes Elleman, her brother Robert, who was lost in World War II, her brother Forrest, and her sister-in-law Pat. Jo was born August 22, 1926, in London, England to her American parents and raised there until after high school. She joined the American Red Cross in 1943, attended Western College, Ohio in 1944, and graduated from Pembroke College, the Women's College of Brown University, in 1948 with a B.A. in History, working in Boston where she met Dirk deVries, marrying him in 1951 in Troy, Ohio. She resided in Ohio, Arizona, and Minnesota during her life.
While her first love was her home, her many pursuits included dedicated support of the Minnesota Orchestra, the Hennepin County Library Board, Meals On Wheels, the Salvation Army, twenty years of service to the Communication Center of Minnesota State Services for the Blind, and certification as a Braille transcriber by the Library of Congress. Gardening, tennis, and piano were among her many pastimes and in her later years helped her husband refurbish a small farm in NW Minnesota which she said was the fulfillment of a lifelong desire. She thought she must have guardian angels to be so lucky to live exactly the life she wanted.